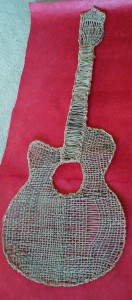 I was born and raised in California.  I remember being completely captivated and influenced by the magic and beauty of colors at a very young age.  I was self taught in art and music until I returned to school in 2002 to receive formal art training.  I received my BA in Studio Art from CSU Long Beach in 2008. 
I studied and learned various drawing, painting, ceramic and weaving techniques.  Fiber courses introduced me to unique and ingenious ways of using paper products as well.  Taking recycled bags and turning them into a viable weaving substance led me to a new medium worth exploring.  I was also very interested in using recycled products for artwork as a way to do my part in being ecologically responsible.  My recycled projects are made of mostly all natural fibers, metals and organic materials.  I like working with ceramics for the same reason.
Some of my recent recycled art pieces such as Miss Betty, Guitar and Seahorse use the combined materials of paper bags, hemp, linen, raffia and copper wire  as well as found or discarded items.  The painstaking hours required to roll the paper bags into a workable type of twine has led me to pursue these and other recycled pieces as a true art form.  I am currently involved with the exciting possibilities of incorporating various organic fibers, recycled materials and/or natural dyes into each art production.
These recycled pieces have not been chemically treated or altered and have been incorporated in their natural forms.  Only the shape, size or color has been changed.  These pieces embody the definition of Recycled; (1926) to pass again through a series of changes or treatments.  To bring back.  To make ready for reuse.  To return to an original condition so that operation can begin again.  As the population embraces a "green" approach to help heal our environment, this type of art is committed to using only these types of natural and organic mediums.
I am also involved with several painting projects using paints, watercolors, mixed media and ceramics.  In addition I teach art classes,  started a face painting business, perform in my original working band and have written for newspapers, reviews, blogs, content and several children's books.
To see the finished framed version of the guitar in photo above…please visit my photo gallery.

Education
2008 — California State University at Long Beach/Long Beach, CA
B.A. in Studio Art with concentration in drawing, painting, ceramics and textiles.
2005 — Pierce College/Woodland Hills, CA
General Art Studies with concentration in drawing, painting and ceramics.
x
x
x
x